How to Set Up an Online Store With PayPal?
Are you thinking about starting your own e-commerce store and selling online?
If yes, most likely you are already considering using PayPal as your payment gateway. In this article, we will discuss the pros and cons of using it for your business and share step-by-step instructions on creating a PayPal-enabled online store.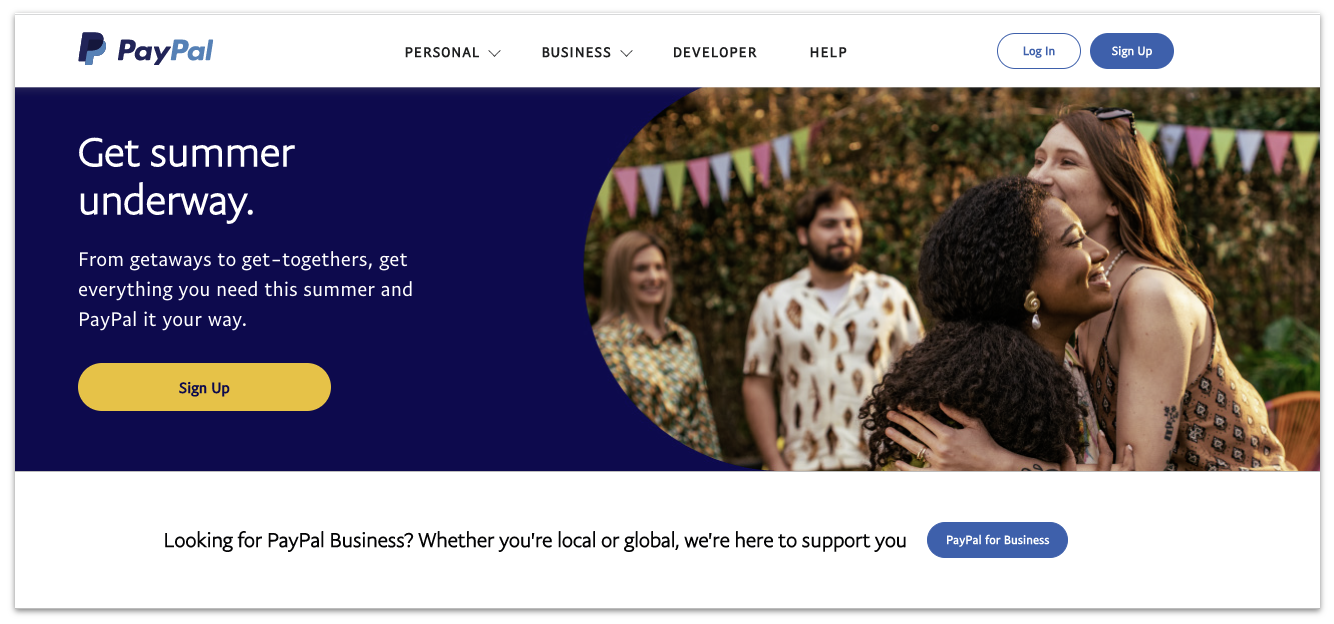 Why you should consider creating an online store with PayPal
For starters, it is one of the best-known online payment processors with almost 500 million active users in more than 200 countries and regions, which makes it a familiar and trustworthy payment option.
It is also very convenient both for customers and sellers. There is a high chance your future clients are already familiar with this payment processor and know that it is a secure and reliable way to check out. And they don't need to have accounts to pay, they can just use their bank cards to make a purchase.
For sellers, it can be a real time-saver. After you become a verified merchant, you can connect your bank account fast in a few simple steps. Then all the transaction aspects will be handled by PayPal which will make them easy to track and keep.
And there are plenty of other benefits.
Pros of using PayPal for your online store
High safety and protection standards
PayPal is known for the security measures it takes to protect both customers and sellers. All the transactions take place on the encrypted web page to hide the customer's sensitive information.
There's also Seller Protection for eligible merchants that can protect you in case a transaction is disputed, and other measures to prevent fraud.
Various payment methods
There are multiple payment methods to choose from: credit cards, bank redirects, and digital wallets (depending on the country) that make the shopping process convenient for the customers.
Easy to integrate
You don't have to spend a lot of time integrating PayPal with your online store, as it can be easily added to most websites, no matter if it is custom-built or created on an e-commerce platform.
Cons of using PayPal for online shop
Fee structure
When it comes to the downsides of this payment processor, the fee structure can seem to be the biggest one. The structure itself is complex and can be hard to understand, while certain types of the fees (especially the chargeback fees) are rather high.
Account suspension
PayPal is known for being very strict about any violations of their terms and conditions which can lead to the suspension of your merchant profile and freezing of the funds. So make sure to read the user agreement and all the terms and policies very carefully when signing up.
Hard to reach support
Another drawback that users often complain about is their support team which seems to be not always available on the spot. Though there is a large knowledge base and a lot of documentation as well as a community forum, so it's possible you won't have the need to contact the support team.
Creating a PayPal-enabled online store
There are several ways to build a web store: you can code it from scratch or hire a professional who will do it for you.
Or you can build a website yourself without a single line of code with the help of modern no-code website builders like SpreadSimple, which will turn your Google Sheets into a modern storefront. This way building online store with PayPal will be fast and easy and it won't require any special skills or technical knowledge.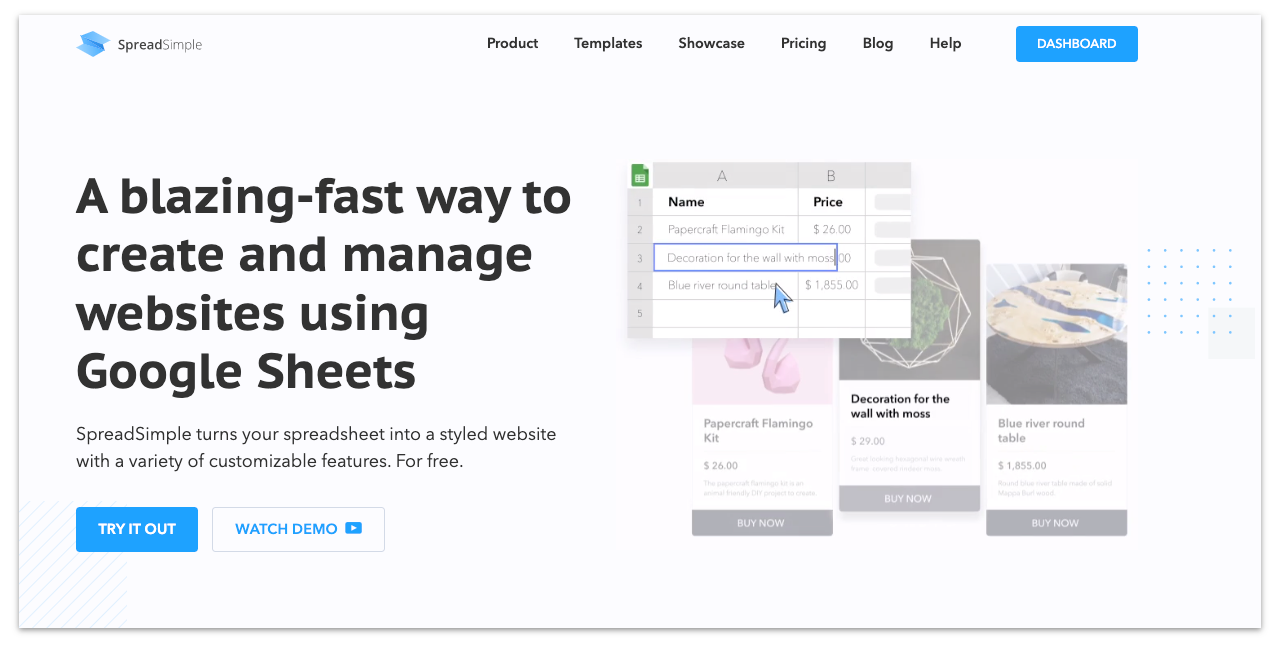 The best part, the Sheets will also become your site content management system so you'll be able to update the site content just by editing your spreadsheet.
Built on SpreadSimple, your storefront will also have the following features:
Shopping cart
Promo codes
Taxes, fees, shipping rates
Filters, sorting, search
Product pages
Order notifications and receipts
Custom domain and white label
Building an online store on SpreadSimple
There are two ways to create a site in SpreadSimple. If you already have your goods listed in Google sheets, you can paste your Sheet link and get a website automatically generated for you.
Or you can use one of the templates and update the Sheet with your products later.
After the site is created, you can configure your content and the way it appears on the page. You do this by connecting the website elements with the columns in your Google Sheets.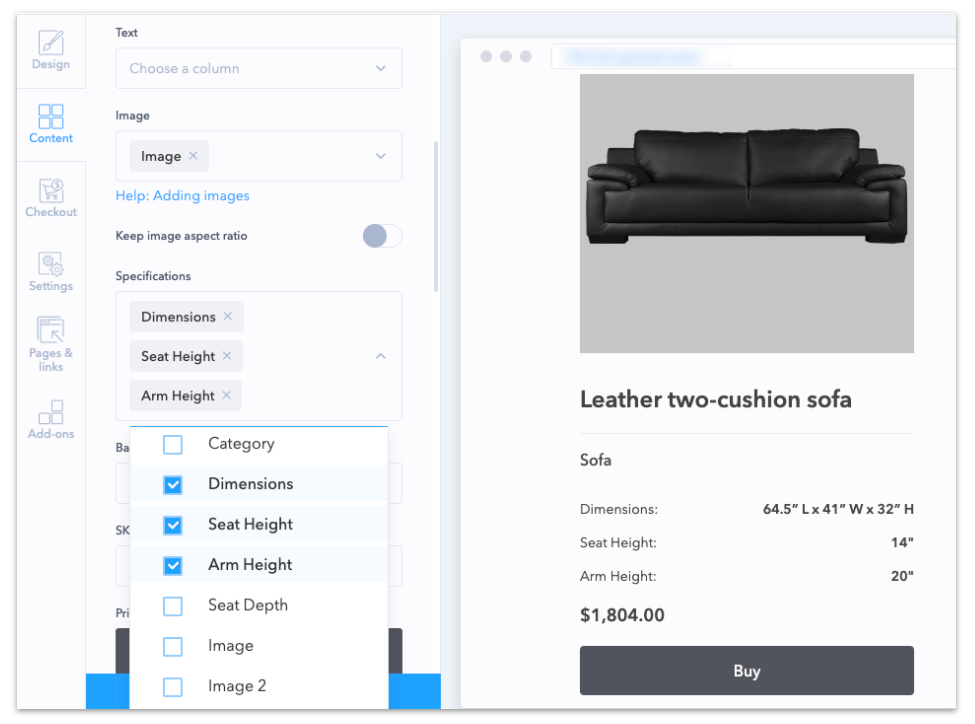 You can also customize the design, set up SEO, create an additional page to tell about your store and so on.
And of course, you need to configure the most important things for the shop – the shopping cart and the order form. First, you need to enable the cart and then you can customize the form, add shipping rates, promo codes, and taxes if necessary.
After that, you are ready to move to the next step.
Setting up your PayPal business account
To use checkout on your store, you need to have a verified business profile.
If you are already registered and have a Personal account, you can upgrade it to Business, or create a new one. It is easy and simple to set up, you just need to provide your company valid contact information and your employer ID number or a social security number.
The requirements may vary depending on your country. You might also need to provide your business registration information, license and legal representative's ID document.
However, if your merchant account is not created or verified yet, you can use Sandbox mode in your personal account to enable the checkout on your online shop and test it out. Then after everything is ready, you can switch to Production mode and go live.
Adding PayPal checkout to your online store
To set up the checkout, you will need to enable the PayPal add-on in your website editor.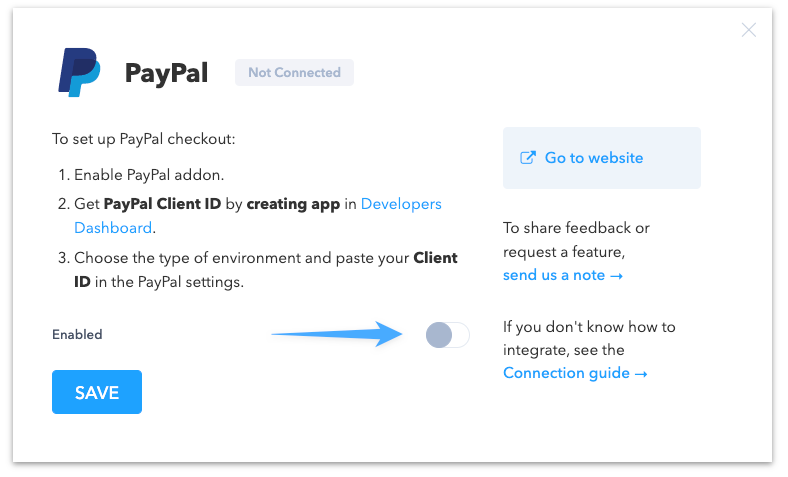 Then you'll need to enter your Client ID.
To do that, log in your Developer Dashboard, go to the REST API apps section and create a new app. That app will have all the necessary credentials that you need to copy and paste to the add-on settings: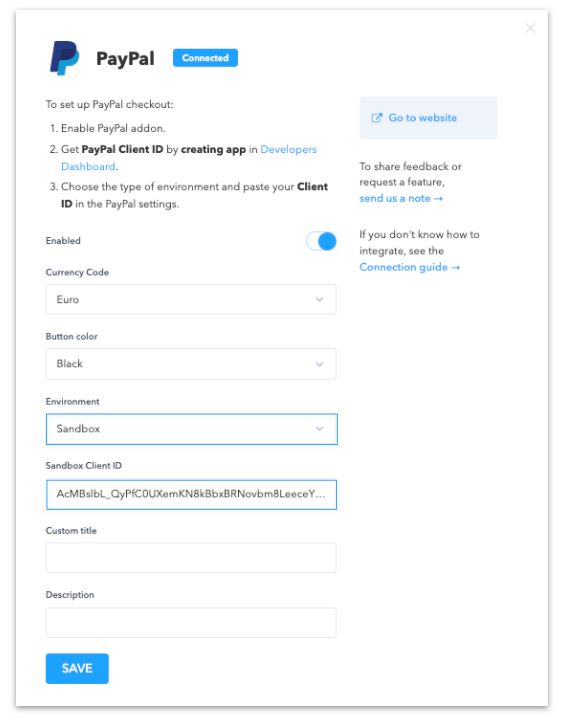 Then select one of the supported currencies.
You can also customize the button color, set custom title and description that will be displayed on the order form.
After all the changes are made, click Save.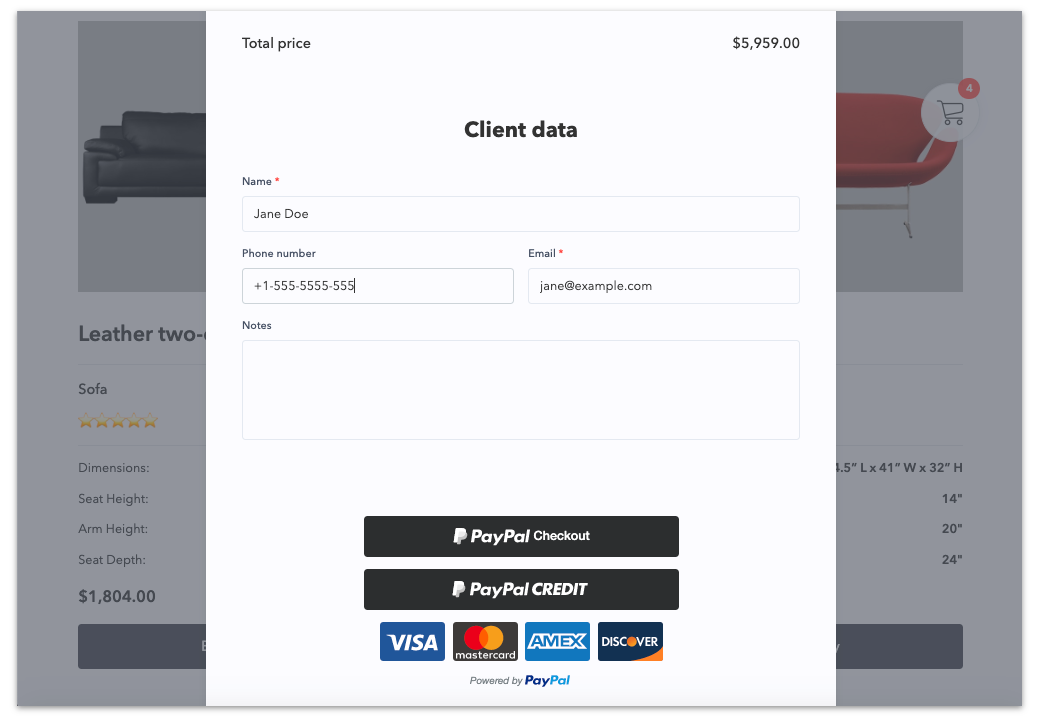 Congratulations! You created your PayPal-enabled online store!
Now you can publish it and make some test orders to see how it's working, and after you are ready, you can switch the mode to Production and start selling.
Summing it up
PayPal is a widely known payment processor with a huge and active user base distributed all over the globe. Adding it as a payment option to your store will give your customers a familiar and secure checkout experience.
Though it may have its disadvantages such as complex fee structure and relatively high fees, its reputation, security and safety make it worth considering for small businesses, especially if you are just starting out.
It is also very easy to set up and add to an already built site. If you don't have one, you can quickly create online store with PayPal using one of the website builders and spend more time and efforts on marketing, promoting and growing your business.
---